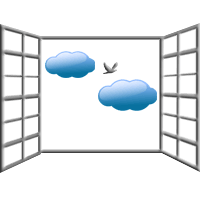 Indoor Air Quality
Ductwork • Air Filters • Clean Air
Clear the Air with Frosty's Heating and Cooling, Inc. The air in your home or business can be an unexpected source of illness, respiratory problems and allergies. Although it is often overlooked, indoor air quality is a major risk to public health. While we are all aware of the hazards presented by pollutants from the outdoors, many people are unaware that the air inside your home may range from two to five times more polluted with allergens, bacteria, dust mites, mold and mildew. Even if you clean and vacuum regularly, pet dander and dust mites can build up and reduce the air quality in your home, leading to potential health issues.
At Frosty's Heating and Cooling, Inc., we offer air filtration systems to provide better air quality for your home or business. The air filtration system is a strong line of defense against bad indoor air in the home or workplace.
Our IAQ Solutions:
Dehumidifiers

In order to make a room comfortable in hot, humid climates, an air conditioner must lower the indoor humidity level as well as the air temperature. If an air conditioner fails to lower the humidity adequately, the air will be cool, but will feel uncomfortably damp.

Duct Cleaning
High Efficiency Filters
Humidifiers
UV Lights
We offer the following air treatment solutions for:
Allergies
Bacteria
Chemicals
Dust
Dust mites
Germs
Indoor air pollution
Mold
Odors
Pet dander
Pollen
Smoke
Viruses
---
Effects of Poor Indoor Air Quality
Since we spend much of our days and nights either in the office or at home, it's vital to ensure the air in those spaces is clean and pollutant-free. But all too often, indoor air quality can lead to poor health. According to the Environmental Protection Agency:
Poor indoor air quality is one of the top five risks to public health
90% of respiratory problems can be attributed to poor air quality
If there is a smoker in your home, the air quality worsens dramatically
IPoor indoor air quality in your home or workplace can have both immediate and long-term effects on your overall health. Some short-term effects of poor indoor air quality include:
Irritation of eyes, nose and throat
Headaches
Dizziness
Fatigue
Exacerbated allergies
These reactions can stem from a range of pollutants and depend largely on an individual's sensitivity to the pollutant. Someone with a severe dust mite allergy, for example, will react more strongly to dust pollutants than someone without such an allergy. Some of the long-term effects of indoor pollutants include:
Respiratory diseases
Heart disease
Cancer
Benefits of Air Filtration Systems
Installing an air filtration system in your home or business is one of the best ways to improve your indoor air quality and help prevent some of these major health risks. An air filtration system serves to remove pollutants from the air by taking in air, cleaning it, and returning it. At Frosty's Heating and Cooling, Inc., we provide air filtration system repair and installation to keep the air quality good in your home or business.
Whether you are seeking to install a new system or maintain, upgrade or repair your current air filtration system, Frosty's Heating & Cooling Inc. can assist you as an industry leader in the Washington, DC Metropolitan area.